By DOUG ERICKSON - WISCONSIN STATE JOURNAL
Added: Mon, 13 Feb 2012 23:29:53 UTC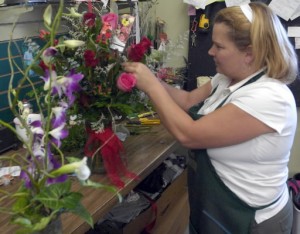 It seemed like such a simple transaction.
The Freedom From Religion Foundation in Madison wanted to send a bouquet of roses to Jessica Ahlquist, a 16-year-old atheist in Cranston, R.I., who had just won a court battle with her school district over a Christian prayer banner.
The foundation quickly learned there are some things you can't say with flowers, at least not in Cranston.
Four floral shops declined to deliver flowers to the teen, according to the foundation. The foundation now has filed complaints against two of the stores with the Rhode Island Commission for Human Rights, alleging illegal discrimination based on religion.
"I'm totally flummoxed," said Annie Laurie Gaylor, foundation co-president. "I couldn't believe the florists would treat a teenager this way." Ahlquist was the plaintiff in a suit brought by the American Civil Liberties Union against Cranston West High School. At issue was an 8-foot-tall banner in the school gym titled "School Prayer." It begins "Our Heavenly Father" and ends with "Amen."
A federal judge ruled in mid-January the prayer's presence violated the principle of government neutrality in religion and was therefore unconstitutional. A week later, Gaylor sought to send flowers to Ahlquist.
The first floral shop contacted in Cranston said it would be closed on the requested delivery day, which was a Wednesday, Gaylor said. A second Cranston shop, Twins Florist, sent a message saying, "I will not deliver to this person," Gaylor said.
Read more
---